Unique events with the best live music.
We can be a Jazz band, a Latin band, a Rock band or a mix of all our styles
throughout the night as required by the client.
Since October 2021 to March 2022 we were the official band of Trader Vic's Hilton Doha, Qatar.
Booking: info@kimbaraworldmusic.com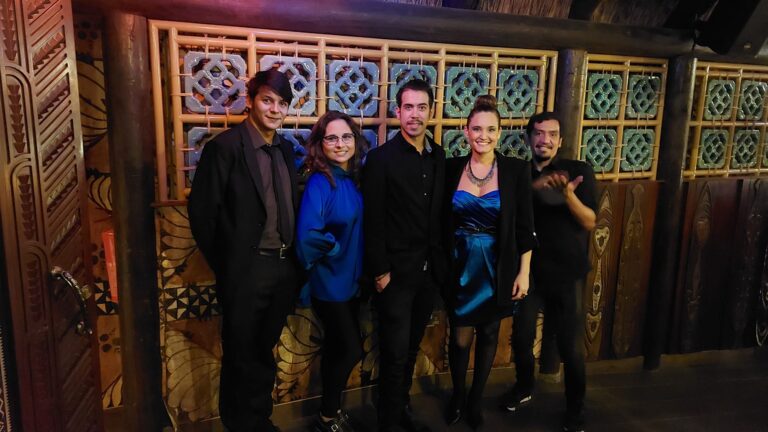 We can be a Jazz band, a Latin band, a Rock band or a mix of all our styles throughout the night as required by the client.
We are professional musicians. Share the KIMBARA EXPERIENCE with your friends and give them the gift of music!

If you are looking for a good time, we are the band to hire!
#WePlayMusicEveryoneCanDanceTo
The perfect way to get the party started for your guests. Our rating and customer feedback speak for us.
While your wedding ceremony is both special and crucial (it's when you'll actually get married!), the reception is probably what you and your guests are most looking forward to—who doesn't want to eat, drink and dance? The best celebrations incorporate personal, fun and unique touches to keep guests smiling and talking about it long after the last dance
The fact that we are so versatile reaches everyone and does not exclude anyone's musical choice.
We promise our tracklist will please the whole crowd.
¿Why "Kimbara"?
Kimbara means movement, the word represents the beating of the drums. It was taken from the popular latin song "Químbara, cumbara cumba quimbambá" by Celia Cruz.
We also have a strong spanish influence from the flamenco rumba.  The mix of these two accomplish an original characteristic sound.
We also play outstanding classics from the 70's and 80's, we love disco music, bossa nova,  latin jazz, caribbean music, funk, poprock, bachata, son, salsa, flamenco rumba, boleros. An interesting mix for all ages and fulfilling all musical tastes. No boundaries.
At the moment Kimbara looks for and manages to cover popular songs and take them to a new particular style, creating pieces of musical arrangements that achieve a version with artistic value.
Up to date we have given more than 300 concerts together as a band. We've been working in many different venues, such as theatres, small and large restaurants, night clubs, pubs, casinos, hotels, wedding and corporate events.
We work with the most recognized and prestigious event planners from Argentina who can certainly give you feedback about our performance and behaviour.
In 2019 Kimbara presented "Explosión Latina", a live music show carried out by 17 artists from Rosario, (Argentina). A musical show of Caribbean dance and the most influential Latin American music of the last decades.
City Center Rosario is one of the largest casinos in South America. We had a great show there, also in 2019.
Lavarden Theatre is a local cultural centre where all forms of the arts find a way to develop.  Due to Covid- 19 we had our own streaming live concert, endorsed by the national government.
Buenavista Social Club, Celia Cruz, Gloria Estefan, Paul Mc Cartney, Lila Downs. Songs like "Hope of deliverance", flamenco's style, "Perhaps, perhaps, perhaps", "Mi Tierra", classics of Latin American music such as "Lágrimas Negras", "Oye como va", "Moliendo Café", among many others are part of his repertoire.
Do you want to know all the musical styles that Kimbara World Music has to offer? Click here
¡listen to us on Spotify!